Aztec can accept both PC and Mac generated artwork.
Our preference is to receive Adobe Acrobat PDF files.
Second to that, we accept Adobe InDesign, Adobe Illustrator and Adobe Photoshop CS4 or previous versions as well as QuarkXpress 8 or previous versions. Please be sure to collect for output (Quark) or package (InDesign) your files to supply all required fonts and images, outline fonts in Illustrator, or flatten Photoshop files.
We can accept files from the Microsoft Office Suite such as Microsoft Word, Publisher, Excel and PowerPoint (files supplied from these programs might not always besuitable for direct CMYK or spot color printing and may require additional desktop publishing time to prepare, which may incur an extra charge).
We can advise you on the best way to set your documents for print, or our in-house design team can prepare the design work for you.
Our presses use a paper size of 12" x 18". The maximum print area is 11.75" x 17.75".
The capability of our in-house poster printers is up to 58" wide by any length.
If further clarification is required, please discuss with your account manager.
If you would like the ink to touch the edges of your printed piece, you need to allow for "bleed" in your file. This means expanding your background graphics beyond the edge of the Finished Size, adding area that will actually be cut away after printing. Aztec requests an additional 1/8", or .125", be added to each side. Your file size should therefore be .25" larger than the Finished Size.
Finished Size
This is the size the piece will be cut down to after printing. Please specify this size when submitting your file.
Live Area
This is the area in which all important elements, graphics and text that you would not wish to have removed in cutting, should remain. We request a margin of 3/16", or .1875", from the edge of the finished printed piece.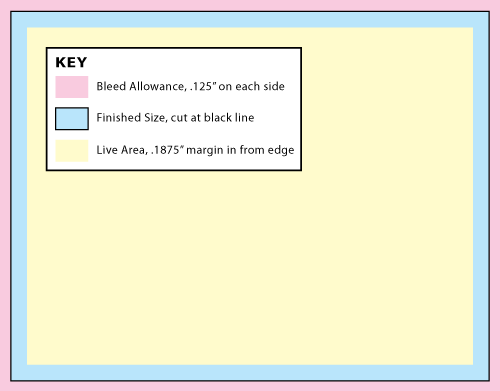 All fonts used should be embedded (submitting a "High Quality" / PDF X-1a with "Fonts Embedded" checked should ensure this) or converted to outlines (EPS, Illustrator). If fonts are supplied, please ensure that all are included and that any redundant fonts are removed. Using "Collect for Output" in QuarkXPress or "Package" in InDesign will gather the fonts used in your document as well as all necessary images.
If you typically use standard font types (Times New Roman, Arial, Helvetica, etc.) with their basic versions (regular, bold, italic) you should not experience font errors when having your documents printed. However, if you have an extensive font library and typically use unusual fonts or extended versions of standard fonts (i.e., Futura Condensed) and are not utilizing postscript or PDF formats, you MUST attach and include them with the document file. NOTE: If you use Postscript fonts be sure that you include both the Screen version and Printer version, otherwise the font will view without error, but will result in a font substitution error when it downloads to the printer.
Aztec will accept files in RGB or CMYK format, but it is important to note that RGB is not an ideal printing format and may cause undesired effects. All digital files intended to print in full color will be converted to CMYK, which may affect the appearance of any artwork supplied to us in RGB format. If a color match is require please ensure that a reference or hard copy is supplied.
Digital files intended to print as spot colors should be provided with spot colors designated using the PANTONE Matching System. It is not always possible to match spot colors on a CMYK press.
A saddlestitched booklet (folded in half and stapled through the spine) requires the page count to be divisible by 4. If the page count cannot be divided by 4, please add blank pages in the desired position or let us know where they should be inserted. If the file is being supplied as a PDF, please supply as either single pages or as printer's spreads (see graphic below).
Reader's spreads (as they would appear once the document has been finished, see graphic below) are not suitable and will require additional desktop publishing time to prepare, possibly incurring additional fees. If the file is being supplied in Adobe InDesign or QuarkXpress, reader's spreads, as long as they are true spreads, or single pages are both acceptable.
Creep: In saddle-stitch bindng it refers to the inner sheets of inserted spreads or signatures sticking out further than the one it is enclosed in. The inside pages or signatures move away from the spine. See "Creep Example".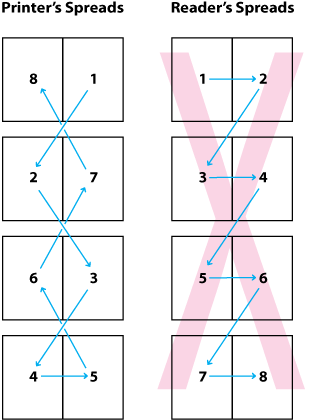 Creep Example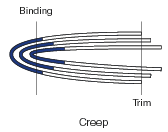 Perfect Bound Book
A perfect bound book should be supplied as 2 separate files:
File 1 - For the cover, the width should equal the width of the front and back covers, plus the thickness of the spine. If the cover of the book bleeds, add .125" to each side. If appropriate, the cover file should include a page consisting of the inside front and back covers in addition to a page of the outside front and back.
File 2 - For the inside, text pages should be supplied as single pages. If the interior of the book bleeds, include .125" bleed on all edges. Both of these files can be supplied as Adobe InDesign, QuarkXpress or Adobe Acrobat PDF files.
Wire or Coil Bound Document
A document to be wire or coil bound can be supplied as Adobe InDesign, QuarkXpress or Adobe Acrobat PDF files, however the files will need to be set with a .5" margin on the binding edge to ensure that the holes punched for binding do not encroach on printed material.
When supplying images, ensure that they are scanned at 300 dpi (dots per inch) at print size, otherwise quality will be compromised. Images downloaded from the Internet will generally have a resolution of only 72 dpi and therefore they will not reproduce a high quality result when printed. If an image is being supplied for large format printing, it should be as close to the preferred output size as possible and be no lower than 150 dpi. Vector images will be suitable supplied at any size as the quality will not diminish on enlargement.
The "Upload Job" link is located in the top-right hand corner of the website. You can upload up to 5 file with a maximum [total] file size of 250MB. When completing the form, please give us as much information as possible regarding quantity, paper stock, and color. In the instruction field, please add any additional information that we need to finish your order. Thanks for letting Aztec Printing and Design complete you job. you can click the link below to go straight to the upload form.